Shopkins are little toys you can play with. And you can get shoppie dolls too. Shopkins were made by Moose toys ,he lives in Australia and makes toys in china.
They were made in 2013, there are 7 seasons now, in England they cost 2 pounds 50p for a two pack, 5 pounds for a five pack and 10 pounds for twelve pack.
My favorite season is season 6 because its chef club season and you can get different fruits and veg shopkins and different things you can cook with.
That is the chef club logo.
This are some shopkins from chef club:
Cara Carrot Cake
Briana Banana Smoothie
Buncho Bananas
those were some of my favorites!
There are 5 apps that you can get on an Ipad, Phone and tablet. Here they are:
1st:
shopville
2nd:
Chef club
3rd:
shoppies style
4th:
shoppies dash
and last 5th:
shopkins run
And also there are cartoons that you can watch on youtube!
The channels name is Shopkins World  and plus theres a shopkins MOVIE OUT NOW!!
(By the way its a DVD)So here's  a picture of it:
This is the shopkins DVD
Now I'm going to tell you everything about season 7.
Season seven is a party theme season!!
It has 9 catagorys! like, Disco party, summer pool party, picnic party and there is much more!!
By the way now there are topkins!! So basicly there is 3 shopkins that can stack!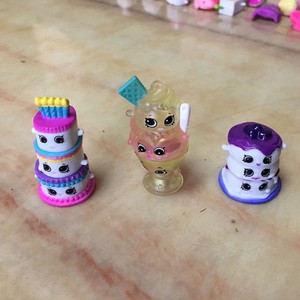 Now I'm going to set a link to the official shopkins site! <3
Here is another link to a video!